Water Action Plan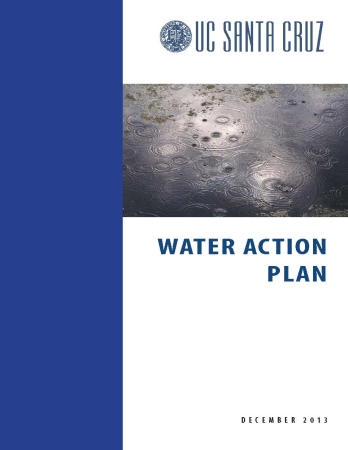 UC Santa Cruz' Water Acton Plan (WAP) has been developed to acknowledge achievements and identify strategies that can be implemented to reduce the UC Santa Cruz demand on water resources and to promote healthy watersheds in and around the campus.
Consistent with the State of California law establishing a goal to reduce per capita potable water use consumption by 20%, the UC Board of Regents Policy on Sustainable Practice (http:policy.ucop.edu/doc/3100155/SustainablePractices), Sustainable Water Systems section (Policy) states that "...each campus will strive to reduce potable water consumption adjusted for population growth by 20% by the year 2020."
The UC Santa Cruz WAP recognizes the limited nature of water resources in our region and the campus' role as a responsible steward in the community.  It identifies the achievements in water conservation and identifies the campus' long term strategies for achieving sustainable water systems.